Opioid overdose deaths in rural areas could be reduced under federal naloxone bill
Colorado Newsline
Washington, July 10, 2023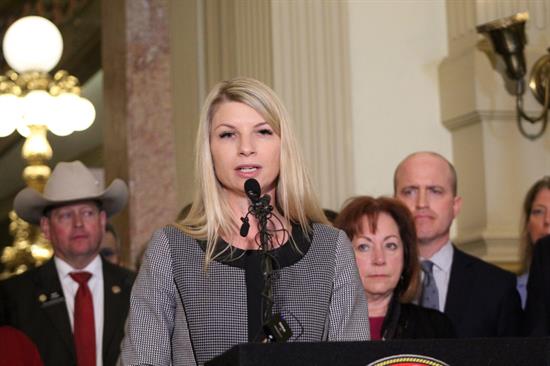 Full Article Can be Found Here
Two of Colorado's Democrats in Congress introduced a bill that would create a federal grant program to provide rural law enforcement agencies with naloxone, a medicine to reduce opioid overdose deaths.
U.S. Rep. Brittany Pettersen of Lakewood led the introduction of the bipartisan bill alongside Washington Republican Rep. Dan Newhouse, with Colorado's Joe Neguse also sponsoring the legislation. If passed, the bill would change the Omnibus Crime Control and Safe Streets Act of 1968 to create a pilot program that would provide rural law enforcement agencies access to funding under the Comprehensive Opioid Abuse Grant Program.
"Without overdose-reversing drugs like naloxone, my mom wouldn't be alive today," Pettersen said in a statement. "As the global opioid crisis intensifies, fueled by the rise of synthetic illicit substances such as fentanyl, it is crucial that we equip our communities and law enforcement with the tools they need to save lives."

Pettersen frequently cites her mother's history with an opioid addiction that started after she had a back injury and led legislation targeting opioids while she was a senator in the Colorado Legislature.

Earlier this year, Neguse helped start a new bipartisan congressional caucus aimed at preventing fentanyl overdoses.

"We must take urgent action to prevent drug-related deaths and combat the fentanyl crisis," Neguse said in a statement. "By ensuring that local law enforcement have access to naloxone, we will save lives and build safer communities."

Data from the Colorado Department of Public Health and Environment has consistently shown higher rates of overdose deaths in rural parts of the state. Current data shows Las Animas County has the highest opioid overdose rate of 61.7 per 100,000 Colorado residents.

CDPHE spokesperson Gabi Johnston said the state's overdose prevention team regularly works with law enforcement and first responders who participate in the Naloxone Bulk Fund, CDPHE's naloxone distribution program. The state also works with partners to provide naloxone training to law enforcement across the state.

"The Naloxone Bulk Fund provides naloxone statewide to equip law enforcement, first responders, harm reduction agencies, local public health, and other overdose prevention partners across the state with access to life-saving opiate antagonist," Johnston said in an email. "The goal of the bulk fund is to make naloxone available to as many people who work with, support, live with, or interact with individuals at risk of an overdose as possible."

Johnston said the state has distributed 541,279 doses of naloxone since the Colorado Legislature passed a bill to create the program in 2019, which was sponsored by Pettersen when she was a state senator. Eligible entities can still apply to participate in the program.

The Colorado Legislature also shut down a proposal that would have allowed cities to authorize overdose prevention sites, where people can use illicit drugs under supervision with naloxone on site.